Went to a Super Bowl party and wanted to make something for it. A coworker and I had just been talking about Tyler Florence's Inside the Test Kitchen a couple days before. We both began raving about our experiences with the cookbook, so I cracked it open again for party inspiration. I usually make dips for parties since they're typically pretty easy but decided to stretch a little this year and try my hand at the cheddar-black pepper crackers since I've never made crackers before.
Ingredients
shredded sharp Cheddar cheese
all-purpose flour
kosher salt
freshly ground black pepper
unsalted butter, cold and diced
coarse sea salt
The Process
I decided to double the recipe size since the Super Bowl party would have a lot of attendees. Making the dough itself was super simple. Most of the required ingredients are kitchen staples so I only purchased the cheese. The dough is made with a food processor. I've never made dough that way before but man was it easy!
Rolling the dough out for the first batch was tougher than I anticipated. I restarted a couple of times and the final result looked kind of like an animal haha. (It made me think of an alpaca first but that's partly because I'm an avid knitter and I love alpaca yarn.) I did a much better job with the second batch. Since the cracker sheets would get broken into pieces after baking anyway, it didn't really matter too much.
However, I think I rolled some parts of batch #1 a little too thinly, so sections seemed overdone even though I took it out of the oven 5 minutes early too. Dropped the oven temperature about 15 degrees and the second batch looked better although the middle seemed to take longer to cook so think I still had evenness issues.
Broke the sheets up to form small crackers.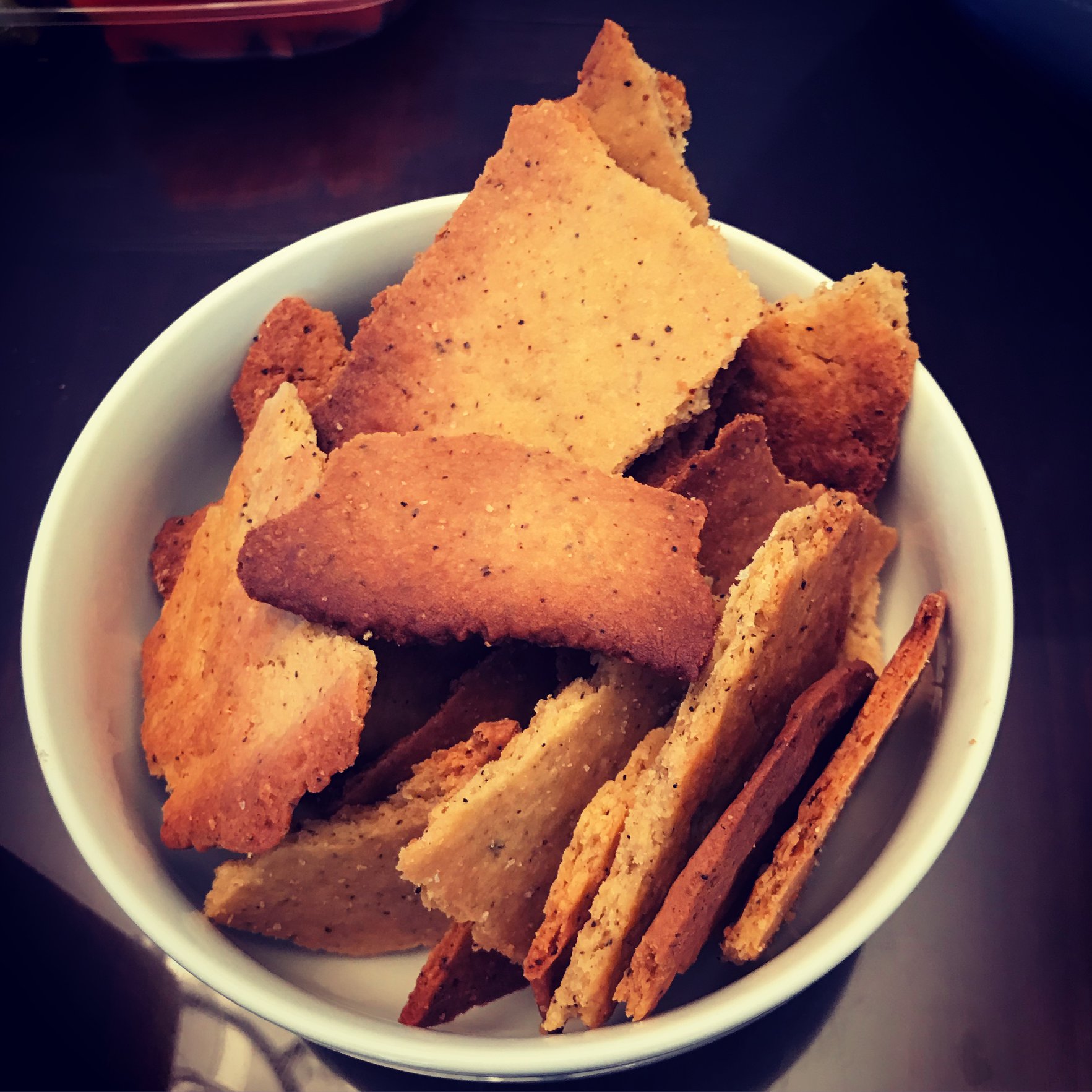 Taste
I actually didn't have kosher salt or coarse sea salt on hand and didn't want to necessarily buy those so I substituted fine grain sea salt instead since I did have that. I looked up the conversion between kosher salt and fine grain sea salt, and it wasn't too far off. Plus I used a little less salt than I was supposed to. I topped the crackers with more of the sea salt (which, per the recipe, is what I was supposed to do with the coarse sea salt). The crackers wound up tasting a little bit too salty for my liking. Aside from that (and the overdone cracker bits snafu), the crackers had a nice cheesy and peppery taste to them to make them interesting. They could easily be eaten without any other accompaniment.
Final Thoughts
While I do some baking, it's not my cooking strength. The recipe was pretty simple, but I feel like I could have done a better job executing it. Making crackers was out of my comfort zone for sure. Besides having the crackers on their own, Tyler recommends eating them with sweet-savory Apricot-Thyme Preserves (another recipe in the cookbook). I didn't have time to make that too though.
Rating (out of 5)
Try for Yourself